Our Very greek Easter
* Tom's family is flying to Greece for Easter to visit Yiayia, Papou and the rest of their extended family. He's so excited to get acquainted with all the Greek traditions of the Holy Week. So, he writes a letter to his best friend describing what he and his brothers did every day, starting from Lazarus Saturday to Easter Sunday.*
Writing "Our Very Greek Easter" fulfilled a childhood dream! It was important to me to create a story on our family's traditions that my kids and those who love Greece could get their hands on, learn and enjoy. Especially in light of the pandemic, I thought that my children would believe that orthodox EasterEaster entails nothing more than watching the service on TV and going on a chocolate egg hunt, which they very much enjoy but still…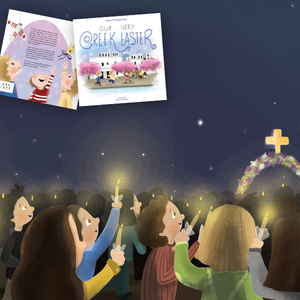 Orthodox Greek Easter is the biggest celebration in the country, with many symbolic events happening through the Holy Week and the whole country following the traditions. Children go door to door singing about Lazarus. Families bake tsoureki and Easter cookies, dye their eggs, and many fly from abroad to reunite with their loved ones.
Godparents bring the lampades, and of course, the celebration peak on Holy Saturday night with many fireworks lighting up the sky. Easter Sunday is the day most of us look forward to. Roasted lamb and kokoretsi are the classic dishes; desserts, singing, dancing and laughing are only a short description of the day!
I hope you enjoy 'Our Very Greek Easter'! My amazing illustrator, @LauraMocelin, did her magic again and brought my story to life. In the meantime, I realised that some of these traditions are similar in Brazil too!
The book is available in paperback and ebook formats on Amazon.